Our History
We are a leading company, created in 1997, specialized in conducting inspections through non-destructive testing . We count with certified professionals, equipment and methods properly fitted for every task.
We diagnose the integrity of industrial plants and equipment by diagnosing potential failures ahead of time. We work following the statement of international organizations.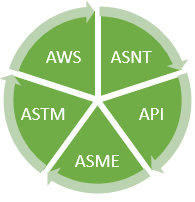 Isotec provides its services to different industries such as:
Aeronautical

Petrochemical

Energy generation

Metallic Structures

Industrial Plants
ISOTEC S.A.S is a technical service provider in the area of Non Destructive Testing including the aeronautical sector. We are authorized by the Colombian Civil Aviation Authority (UAEAC) and hold the certificate of operation CDF #020 dated March 2001.
Additionally, ISOTEC is certified by the Colombian Air Force as a testing laboratory in the field of parts manufacturing and State-Aviation technical service provider.
Currently, we are in the process of ISO/IEC 17025 Accreditation.
ISOTEC was the first non destructive testing laboratory recognized by Colombian Air Force as ESSAYS AND MEASUREMENTS LABORATORY No. ARACR-2014-001, given by the CERTIFICATION DIVISION of the COLOMBIAN AIR FORCE AND MINISTRY OF DEFENSE.
Our Missión
We strive to support programs to the industry through the inspection and technical diagnostics of their facilities, equipment, components and materials, doing non destructive testing.
Rest assured, we work with innovative, high quality, technological advanced solutions which are reliable, safe and cost effective for our clients.
Our main goal is the satisfaction of our clients, employees, suppliers and investors with honesty, responsibility and sustainable solutions.
Our Visión
By 2022. ISOTEC Will be recognized in Latin-America for providing NDT inspection services and technical diagnostics for industrial and aeronautical fields. We aim to be leaders in our field and be known by our innovativeness, excellent reputation, environmental and industrial safety and occupational health.  
Corporate Values
RESPECT THE LIFE, THE LAW AND THE WELL-BEING OF PEOPLE: working with an open mind to always provide a good life to the people, with respect of the laws and conservation of the public and private goods.

HONESTY AND INTEGRITY: act with the truth, honesty, loyalty and total transparency

PRECISION AND RIGOROSITY: Results oriented in a very efficient way to guarantee the quality and rigor required by any engineering work, such as commitment with customers.

RESPONSIBILITY OF THE LEADER: act with respect, fidelity, rectitude and a sense of belonging to the company without a behavior causing harm to our clients.